How is Augmented Reality Changing the World Around You?
---
Posted on by Fareesa Dastagir
---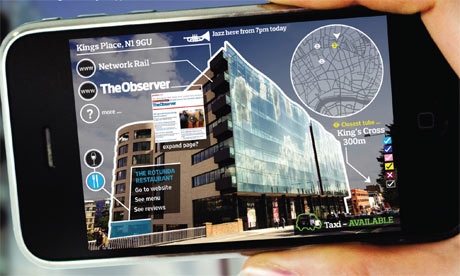 If you haven't heard the term "Augmented Reality" (AR) yet, you may be living in a bubble. That was me a few months ago. Now that I've read about AR, it's fascinating to learn of all the possibilities this technology enables.
AR is becoming the most interactive technology on mobile devices, allowing us to experience the world in a way we haven't before. Below are some tips on using this technology.
*GPS is not required, but is helpful
What You Can Use it For
Sight Seeing: Say you're walking down the street, or traveling to a foreign land and see a cool building that you want to learn more about – take out your mobile device or smart phone, point it toward the building, and in an instant, you'll have access to it's name, address, history, etc. It's like having a personal tour guide with you at all times!
Culinary Adventures: Hungry and can't decide what you want? Point your mobile device or smart phone at a restaurant to view ratings, and find out what's on the menu.
Shopping: When you're at a store and can't decide if a product is right for you, use the same steps to easily see product features and feature and price comparisons from nearby stores.
Net-a-Porter, an online luxury retailer, drew crowds in Paris, London, New York, Berlin, and Sydney to use a specially designed augmented reality app which showcased their new collection in January. These five augmented reality-enhanced stores worldwide called, "The Window Shop" let shoppers scan a picture with their iPhone or iPad, and possibly win the item.
Gaming: Use your surroundings to create a new world of gaming. In my previous post, I told you 3D augmented reality could become the future of gaming. In the meantime, Mobile Augmented Reality has created a series of games which allows the player to have a similar experience.
Story Telling: Marco Tempest uses Kinect-powered augmented reality to tell a magical story at TED2012
Amazing possibilities!
How have you used augmented reality to enhance the world around you?